We are thrilled to inform the crypto industry and our cherished community about CorionX advancement and revisions to some key parameters to bring value to the CorionX ecosystem.
Over the weeks, the team has been prepping to keep the CorionX vision intact and release an interoperability bridge to Binance Smart Chain ensuring several opportunities to CorionX users.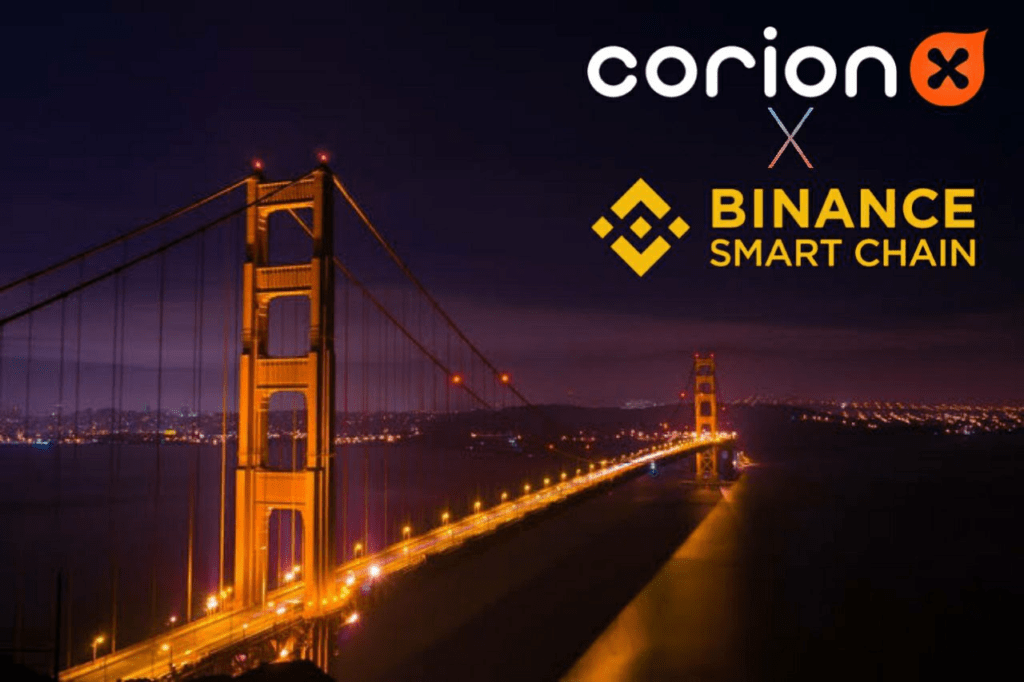 Cross-Chain Integration
To realize the potential and the ultimate goal of CorionX, we prioritize effectiveness and efficiency. With this in mind, we are focused on three key points: Interoperability, Scalability, and Ecosystem. Powered by Distributed Ledger Technology, DeFi tools, and Partner Bridges, CorionX Ecosystem will make business and individual access to financial services efficient compared to traditional finance.
The introduction of this bridge to the Binance Smart Chain allows CorionX users to use the whole BSC ecosystem. Our goal is to bring selected and widely usable options, which serve the further growth of the CorionX utility token and community. This bridge empowers CorionX users to move assets across different chains without a hitch as it offers easy access to whole ETH & BSC DeFi solutions like DEXes, Yield Farming Platforms, Pools, etc.
What is next?
We continue to grow our ecosystem with the introduction of this BSC Bridge. We use cases by expanding existing products, launching new products, and creating more bridges to other ecosystems.
We recognize high interest to offer a further opportunity to let CORX token holders earn additional rewards in CORX. We plan to launch a Liquidity Pool Incentive on one of the most reliable Yield farming platforms on Ethereum and Binance Smart Chain. CORX Yield Farming token holders contribute by providing liquidity to CORX/ETH and CORXb/BNB pools and earn up to 50+% APY.
Congrats to everyone who participated and are actively involved in helping bring awareness to the CorionX project.
Welcome the complete new decentralized machine ensuring precious assets to all the blockchain users. Enjoy the low transaction fees, increased DeFi interoperability, and many more. It has become a milestone in the crypto industry. Moreover, the BSC communities are preparing to release many tools this month as soon as possible.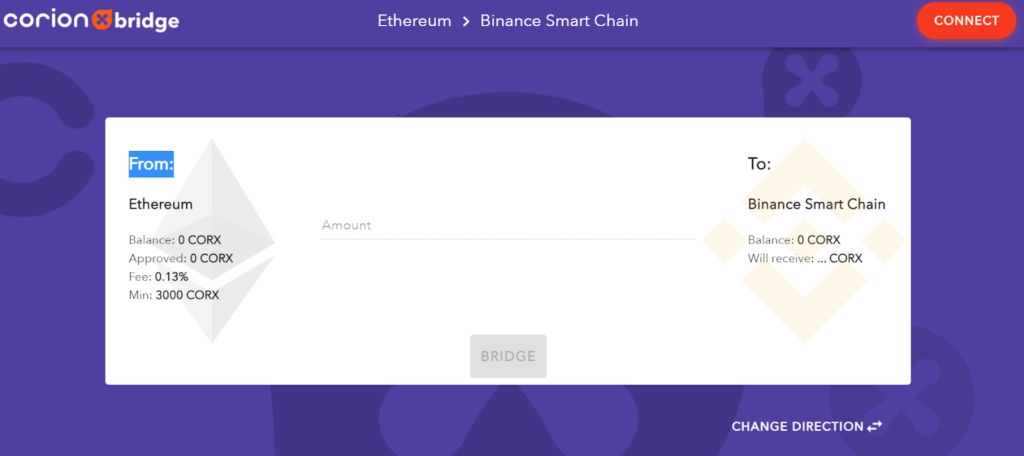 The CORX Binance Smart Chain includes several benefits to its users. The BSC evolved the complete cryptosystem. With BSC's innumerable handy tools, building digital assets has become easier than ever before. Multiple crypto projects are working with the Binance Smart Chain helping it to become an A-1 rated blockchain platform.
So, without any delay, join us to create a sensational crypto society and interoperable CorionX. Come on. Journey with us as we build the crypto education infrastructure and the robust user-friendly along with interoperable CorionX.
About CorionX:
CorionX is a modern blockchain platformbuilt on Ethereum that acts as a hub for crypto and stablecoin users. It is built to promote the adoption of cryptocurrency, stable coins, crypto saving solutions, and other technologies that empower users and reduce reliance on legacy infrastructure.
The CorionX (CORX) token is "gas" for the rapidly developing stablecoin and crypto infrastructure and is designed to help incentivize stablecoin and DeFi adoption.
CorionX (ERC-20, BEP-20 token): With its utility token, CORX is focused on merging the cryptocurrency and fast-growing stablecoin environment. CORX is an important asset to incite education, promotion, and spread of crypto knowledge globally with the #MoneyInTheRightDirection movement. This movement will tie the world together in a community where people share knowledge and information about digital finance and its various aspects.
CorionX is using partner's bridges to provide interoperability, fast, secure & cheap transactions, and scalability.
About Binance Smart Chain:
Binance Smart Chain is a sovereign smart contract blockchain delivering Ethereum Virtual Machine (EVM) compatible programmability. Designed to run in parallel with Binance Chain, Binance Smart Chain retains the former's fast execution times and low transaction fees while adding Smart Contracts functionality to support compatible Dapps.
CorionX Binance Smart Chain Bridge:
Now, it's easier to switch from ERC20 CORX tokens to BEP20 CORXb tokens. The CorionX team developed a secure bridge to switch from ERC20 CORX tokens to BEP20 CORXb tokens back and forth. Moreover, it's super-easy to use. This secured bridge is a cost-efficient opportunity to make CORX interoperable through various networks.
Users connect their Metamask or favorite wallet through Wallet Connect. The CorionX BSC bridge and CORXb token on Binance Smart Chain provide interoperability, fast, secured, and cost-effective transactions. This further increases scalability for the users worldwide.
CorionX ETH Token Contract:
https://etherscan.io/address/0x26a604dffe3ddab3bee816097f81d3c4a2a4cf97
CorionX BSC Token Contract:
https://bscscan.com/address/0x36184181FA321E350aaAF88dad723E281365c1Ac
Bridge contract on BSC:
https://bscscan.com/address/0xEFA7eAb30F3DdDFC3926F4083f319d7B6238BFD7
Github: https://github.com/CORIONplatform/corxbridgeBSC
Use MetaMask For Binance Smart Chain –
https://docs.binance.org/smart-chain/wallet/metamask.html
More details about Binance Smart Chain –
https://academy.binance.com/en/articles/an-introduction-to-binance-smart-chain-bsc
Track CorionX on CoinMarketCap — https://coinmarketcap.com/currencies/corionx/
Trading on
Learn more about CorionX — https://corion.io
Follow CorionX on Facebook — https://www.facebook.com/CorionFoundation
Find CorionX on Twitter — https://twitter.com/CorionPlatform
Join the CorionX community on Telegram — https://t.me/corionx
Read about CorionX on Medium — https://medium.com/@Corion
Follow CorionX on Linkedin — https://www.linkedin.com/company/corionplatform/