CorionX Update
We are thrilled to be able to provide this CorionX progress update, as well as introduce our new community-driven incentive.
The past few months have been a fantastic period in shaping the future of CorionX. Through an influx of community support and feedback, we have been able to form several mutually beneficial partnerships that enhance the use case potential for CorionX.
Over this period, several important milestones were achieved, including listing CorionX on Probit Exchange, BitMart Exchange, and Uniswap DEX.
We are fulfilling the plan set forth in our roadmap; working to bring different interoperability solutions to our users. Our BSC bridge had its initial release, and DEX and DeFi solutions on Binance Smart Chain will be available in the near future.
Our Ambitions do not stop there. As the DeFi, and general crypto space continues to evolve, the CorionX team is staying up to date, working with token advisors, to bring the best features and benefits to the CorionX Ecosystem.
As per our road map, we plan to list CorionX on a widely used, rapid growing, top Tier 2 exchange.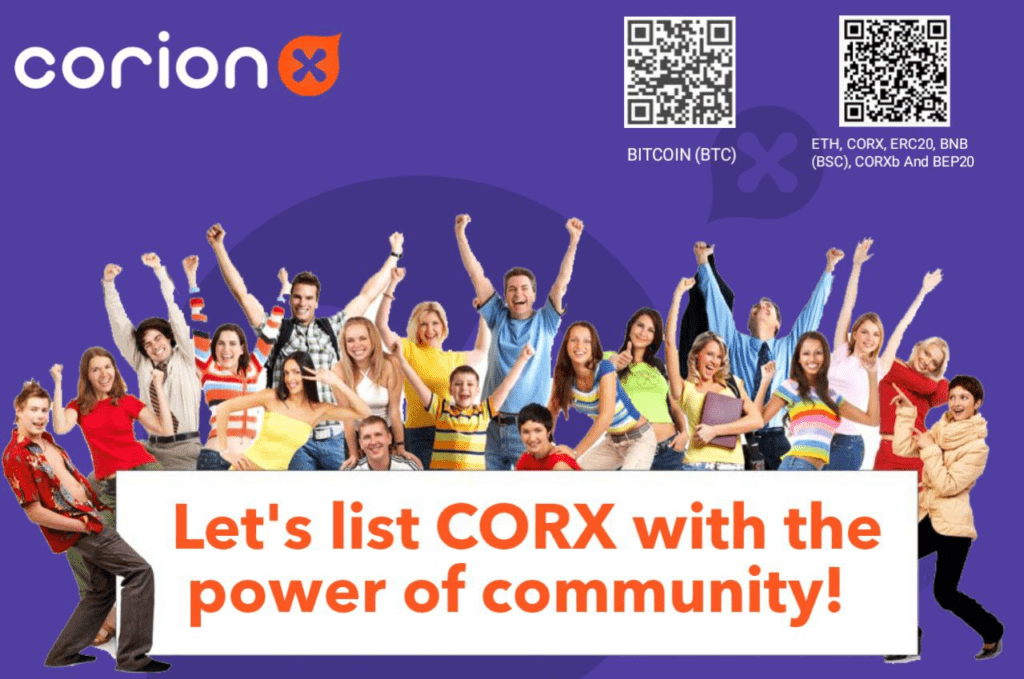 With project funds being allocated towards bringing further developments, products, use cases, and liquidity for exchanges; the Corion team has investigated the best way to generate the funds required for this new exchange listing. As CorionX is gaining momentum, the community is growing together with it; therefore, the basis of this exchange listing movement will be community driven. We are raising funds to pay partially, or fully, the listing fees of this exchange.
The team is investigating future ways to reward contributors that have taken steps to strengthen the CorionX community. More Details to Come. We appreciate everyone's, and look forward to a busy and exciting year to come!
How to donate?
Our donation wallets are presented below. Transparency is essential for us. We will publish a newsletter detailing the collected funds and their usage form as well. Please notice that we have only those ways to donate. Avoid any scammer presenting alternative information via other sources.
Donation addresses:
BTC: 13BVRpSmrXQtwY4ybyQ7MrQz5ZZJ35Wn5k

ETH, CORX and ERC20 tokens: 0xD6Ad8640123F1583c4deEeAcBb8E8B256B685B2e

BNB (BSC), CORXb, BEP20 tokens): 0xD6Ad8640123F1583c4deEeAcBb8E8B256B685B2e
Thank you for your kind support.
Track CorionX on CoinMarketCap — https://coinmarketcap.com/currencies/corionx/
Trading on
Learn more about CorionX — https://corion.io
Follow CorionX on Facebook — https://www.facebook.com/CorionFoundation
Find CorionX on Twitter — https://twitter.com/CorionPlatform
Join the CorionX community on Telegram — https://t.me/corionx
Read about CorionX on Medium — https://medium.com/@Corion
Follow CorionX on Linkedin — https://www.linkedin.com/company/corionplatform/