This article was updated on 11.08.2021 due to BSC contract change and PancakeSwap V2 Trading link!
We at Corion Foundation believe in the future of Decentralized Exchanges, therefore we absolutely support them. CorionX (ticker: CORX) and BSC version of CorionX (ticker: CorionX) are listed on Uniswap V2 and PancakeSwap V2.
Please never forget to be very cautious when you use any Decentralized Exchange. Beware that people can create fake versions of CORX & CORXb for trading on Uniswap and PancakeSwap. Always ensure that you're trading authentic CORX and CorionX (BSC version) tokens, copy and paste the right token contract address.
The only real ERC-20 CORX Smart Contract Address is:
0x26a604DFFE3ddaB3BEE816097F81d3C4a2A4CF97
http://etherscan.io/address/0x26a604DFFE3ddaB3BEE816097F81d3C4a2A4CF97
The only real BEP-20 CORXb Smart Contract Address is:
0x141383CDB8158982fB3469C3e49cC82F8026d968
https://bscscan.com/token/0x141383CDB8158982fB3469C3e49cC82F8026d968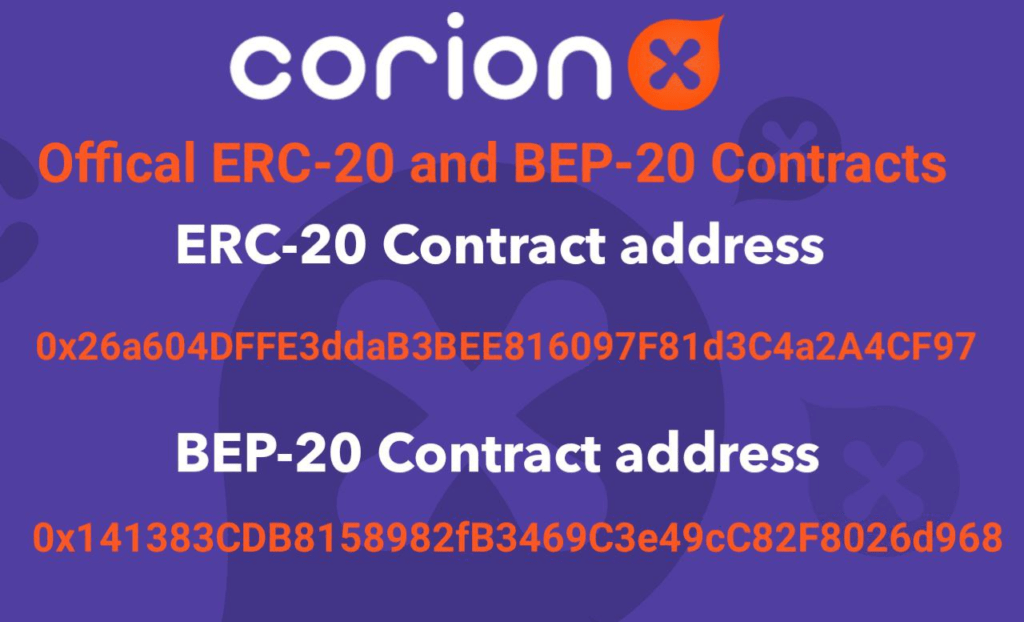 Be aware of Fraudulent Tokens sold on Uniswap and PancakeSwap. Scammers are impersonating us and CorionX token.
In the CorionX BSC Bridge you will then be able to bridge seamlessly between Ethereum CORX and Binance CORXb, back and forth.
Official bridge link: https://bscbridge.corion.io/
Trade CorionX on Uniswap V2:
https://app.uniswap.org/#/swap?outputCurrency=0x26a604dffe3ddab3bee816097f81d3c4a2a4cf97&use=V2
Trade CorionXb on PancakeSwap V2:
https://exchange.pancakeswap.finance/#/swap?outputCurrency=0x141383CDB8158982fB3469C3e49cC82F8026d968
To avoid scams always check our official announcements on our official social media platforms and blog.
Learn more about the about CorionX — https://corion.io/
Follow CorionX on Facebook — https://www.facebook.com/CorionFoundation
Follow CorionX on Intsagram — https://www.instagram.com/corionplatform/
Find CorionX on Twitter — https://twitter.com/CorionPlatform
Join the CorionX community on Telegram — https://t.me/corionx
Read about CorionX on Medium — https://medium.com/@Corion
Read about CorionX on Blog — https://blog.corion.io/
Follow CorionX on Linkedin — https://www.linkedin.com/company/corionplatform/
Track CorionX on CoinMarketCap — https://coinmarketcap.com/currencies/corionx/
Track CorionX on CoinGecko — https://www.coingecko.com/en/coins/corionx
Trade CorionX on BitMart — https://www.bitmart.com/trade/en?symbol=CORX_BTC&layout=basic
Trade CorionX on Bibox — https://www.bibox.com/en/exchange/basic/CORX_USDT
Trade CorionX on Bilaxy — https://bilaxy.com/trade/CORX_ETH
Trade CorionX on Probit —
https://www.probit.com/app/exchange/CORX-USDT
ATTENTION: This is not a piece of investment advice. Please ensure that you undertake sufficient risk assessment when trading newly listed tokens, as they are often subject to high price volatility. This is for informational purposes only. Virtual currency is not legal tender, is not backed by the government, and accounts and value balances are not subject to consumer protections. Cryptocurrencies and tokens are extremely volatile. There is no guarantee of a stable value or any value at all.