Bilaxy Exchange is launching CorionX utility token (CORX) on its platform. This integration is in line with CorionX's and #MoneyInTheRightDirection Movement's mission to support cryptocurrencies and to introduce crypto and Decentralized Finance (DeFi) benefits to the mainstream.
The non-profit Corion Foundation is thrilled to announce that the CorionX utility token will be listed on Bilaxy Exchange, a fast growing crypto asset trading platform, which provides users with a full range of crypto trading services. This integration will bring countless opportunities to the whole CorionX community and give wider access to the users and #MoneyInTheRightDirection Movement supporters.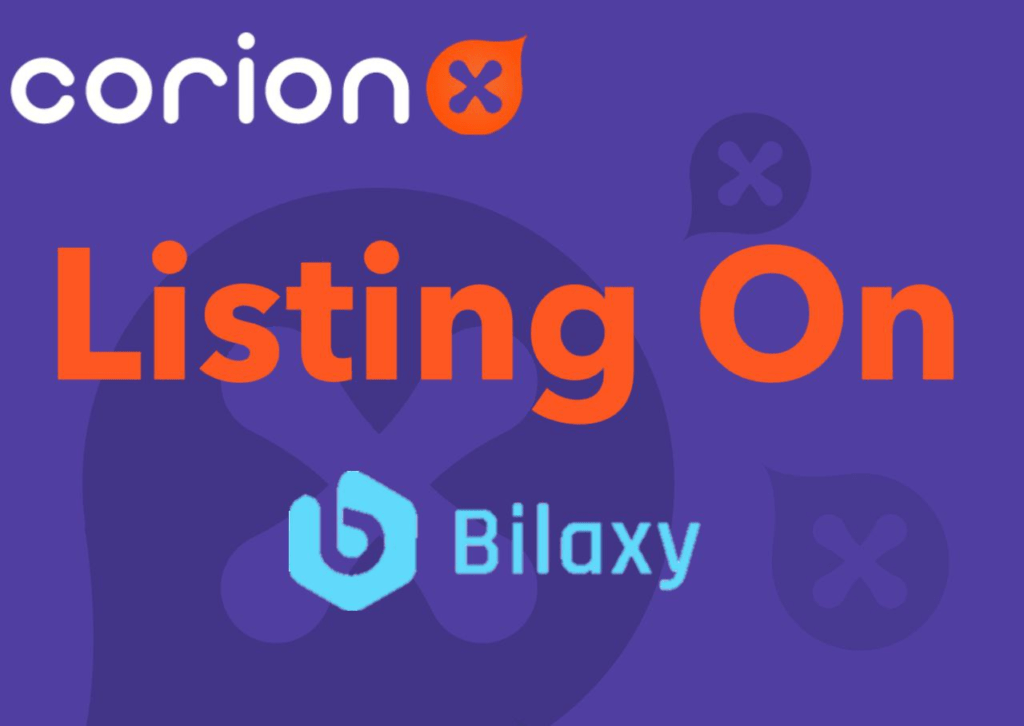 The following trading pair will be available: CORX/ETH.
https://bilaxy.com/trade/CORX_ETH
About Corion Foundation
Corion Foundation is a non-profit organization founded in 2016. It was created to help the development and spread of reliable cryptocurrencies across the world. The CorionX team aims to encourage worldwide adoption of reliable cryptocurrencies, DeFi, stablecoins, CBDCs and help people gain access to swift, safe and cheap OpenFinance.
About CorionX
CorionX is a modern blockchain platformthat acts as a hub for crypto and stablecoin users. It is built to promote the adoption of cryptocurrency, stablecoins, DeFi solutions, and other technologies that empower users and reduce reliance on legacy infrastructure.
The CorionX (CORX) token is "gas" for the rapidly developing crypto infrastructure and is designed to incentivize stablecoin and DeFi adoption.
CorionX (ERC-20, BEP-20 token): With its utility token, CORX is focused on merging the cryptocurrency and fast-growing stablecoin environment. CORX is an important asset to incite education, promotion and spread of crypto knowledge globally with the #MoneyInTheRightDirection movement. This movement will tie the world together in a community where people can share knowledge and information about digital finance and its various aspects.
CorionX's features
♦️ CorionX provides interoperability, fast, secure & cheap transactions, and scalability on Ethereum and Binance Smart Chain with its bridge.
♦️ CorionX will provide the next generation of mobile payments: This will power cheap, fast, and highly scalable transactions within the community using CorionX, Stablecoins, and other ERC 20, BEP-20 tokens.
♦️ CorionX is also creating a platform for education, rewards the collaboration of the community, and leads the #MoneyInTheRightDirection Movement.
♦️ Staking without lockup: Holders of the CorionX utility token earn 2.5% quarterly (10.38% APY) staking rewards without needing to lock up their assets. This is paid on the average CorionX balance held in the user's BSC compatible addresses, leaving them free to transact and benefit from the token's utility without missing out on rewards.
♦️ Earning Yields DeFi: CorionX is looking to integrate Decentralized Finance solutions like Yield Farming to provide easy access to mainstream users to earn yields and extend CorionX utilities.
♦️ The CorionX token has a wide range of use cases. It can be used for bounties and reward plans, membership fees, earning rewards, and a whole lot more.
♦️ CorionX token holders can earn discounts and benefits for holding and participating in the CorionX ecosystem.
Token Details
Token Name: CorionX
Token Symbol: CORX
Total Supply: 400,000,000 CORX
Circulating Supply: 110,000,000 CORX
Locked Tokens for 5 years: 240,000,000 CORX
Token Type: ERC-20 and BEP-20
64% Community
17% Foundation
15% Loyalty Staking Community
4% Bounty & Team
*Above Data calculated as of April 13th, 2021
Learn more about the about CorionX — https://corion.io/
Follow CorionX on Facebook — https://www.facebook.com/CorionFoundation
Follow CorionX on Intsagram — https://www.instagram.com/corionplatform/
Find CorionX on Twitter — https://twitter.com/CorionPlatform
Join the CorionX community on Telegram — https://t.me/corionx
Read about CorionX on Medium — https://medium.com/@Corion
Read about CorionX on Blog — https://blog.corion.io/
Follow CorionX on Linkedin — https://www.linkedin.com/company/corionplatform/
Track CorionX on CoinMarketCap — https://coinmarketcap.com/currencies/corionx/
About Bilaxy Exchange
Bilaxy exchange claims to have hundreds of thousands of traders from more than 80 countries all over the world.
Bilaxy places a strong focus on liquidity for new tokens for global crypto traders. With a plenty of crypto pairs, Bilaxy aims to establish a leading global trading platform that provides a broad range of trading products and services for global traders with a focus on transparency, reliability, quality execution, and client services.
Bilaxy believes cryptocurrency will reshape the global economic system, and its mission is in line with CorionX's #MoneyInTheRightDirection Movement.
Learn more about the about Bilaxy — https://bilaxy.com/
Find Bilaxy on Twitter — https://twitter.com/Bilaxy_exchange
Join the Bilaxy community on Telegram — https://t.me/bilaxychat
Track Bilaxy on CoinMarketCap — https://coinmarketcap.com/exchanges/bilaxy/
ATTENTION: This is not a piece of investment advice. Please ensure that you undertake sufficient risk assessment when trading newly listed tokens, as they are often subject to high price volatility. This Press Release is for informational purposes only. Virtual currency is not legal tender, is not backed by the government, and accounts and value balances are not subject to consumer protections. Cryptocurrencies and tokens are extremely volatile. There is no guarantee of a stable value or any value at all.