The past few months have been a fantastic period in shaping the future of CorionX. Through an influx of community support and feedback, we have been able to form several mutually beneficial partnerships that enhance the use case potential for CorionX.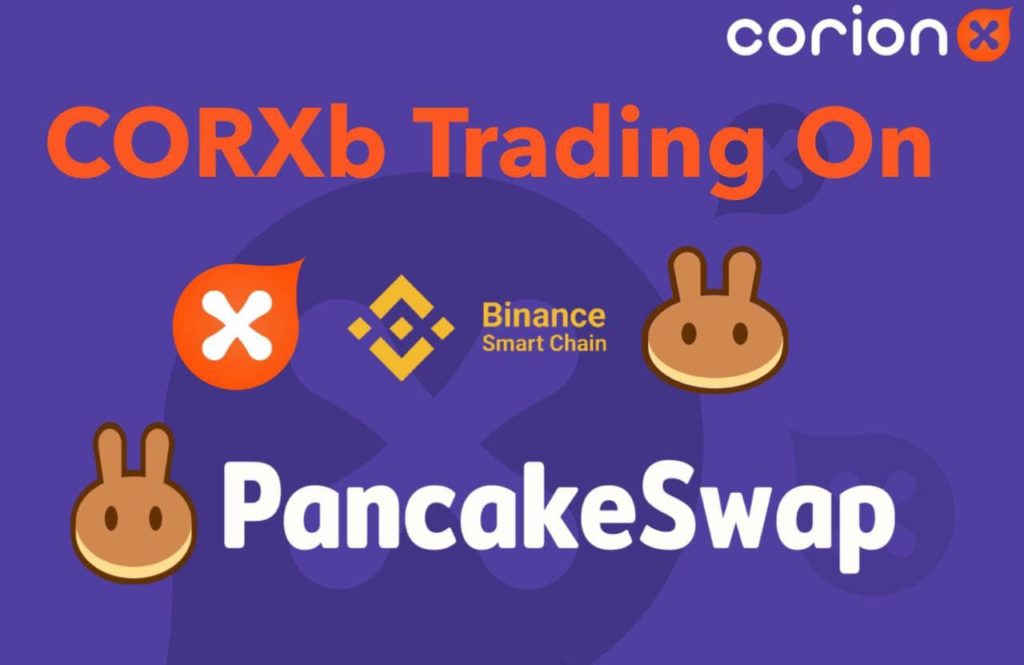 We are fulfilling the plan set forth in our roadmap; working to bring different interoperability solutions to our users. It gives us great pleasure to announce that CorionX's CORX token is cross-chain interoperable and is launching on the fast-growing Binance Smart Chain (BSC).
Launched last September, Binance Smart Chain is an Ethereum Virtual Machine-compatible blockchain. An increasing number of projects are launching on BSC, citing its high throughput and cheaper transactions. The CorionX team is Embracing BSC, as it lowers barriers of entry for typical DeFi and Yield Farming users, through a low-fee environment, and widely developed ecosystem, including AMMs such as PancakeSwap and Julswap.
CorionX BSC Bridge
CorionX BSC Bridge is utilized for bridging between the Ethereum network and Binance Smart Chain, with token-holders being able to use the bridge to swap their ERC20-CORX tokens into the BEP20 equivalent.
Using CorionX BSC bridge is simple, all you need to do is ensure that you are holding your CORX tokens in your MetaMask wallet, or any other WalletConnect compatible wallet like Trust Wallet. Then, add Binance Smart Chain as a custom RPC. Instructions on how to add Binance Smart Chain in Metamask can be found here.
Once you add the custom Binance Smart Chain RPC to MetaMask, switch to BSC Mainnet in (top of your screen), and you will see your CORXb BEP20 token.
In the CorionX BSC Bridge you will then be able to bridge seamlessly between Ethereum CORX and Binance CORXb, back and forth.
Welcome to CorionX's cross-chain future!
The integration will also enable users to transact on BSC-based DEXs and yield farming.
CORXb LIVE on PancakeSwap
PancakeSwap is the main decentralized trading hub on Binance Smart Chain with peak DEX volumes of $2.8 Billion in a single day, a feat that has begun to rival incumbent Uniswap. PancakeSwap has become a must-have for DeFi projects to incorporate given BSC's low-cost, high-speed environment.
First we introduce CORXb/BNB trading pair on PancakeSwap. In order to access PancakeSwap users must connect their MetaMasks or other Walletconncet competible wallet to the Binance Mainnet via custom RPC.
AVOID SCAMS the official BSC CORXb contract is 0x36184181FA321E350aaAF88dad723E281365c1Ac
https://bscscan.com/address/0x36184181FA321E350aaAF88dad723E281365c1Ac
Beware that people can create fake versions of CORXb for trading on PancakeSwap, just as they can on Uniswap. Always ensure that you're trading authentic CORXb tokens, copy and paste the right token contract address
0x36184181FA321E350aaAF88dad723E281365c1Ac
in the Select box in the Swap interface on PancakeSwap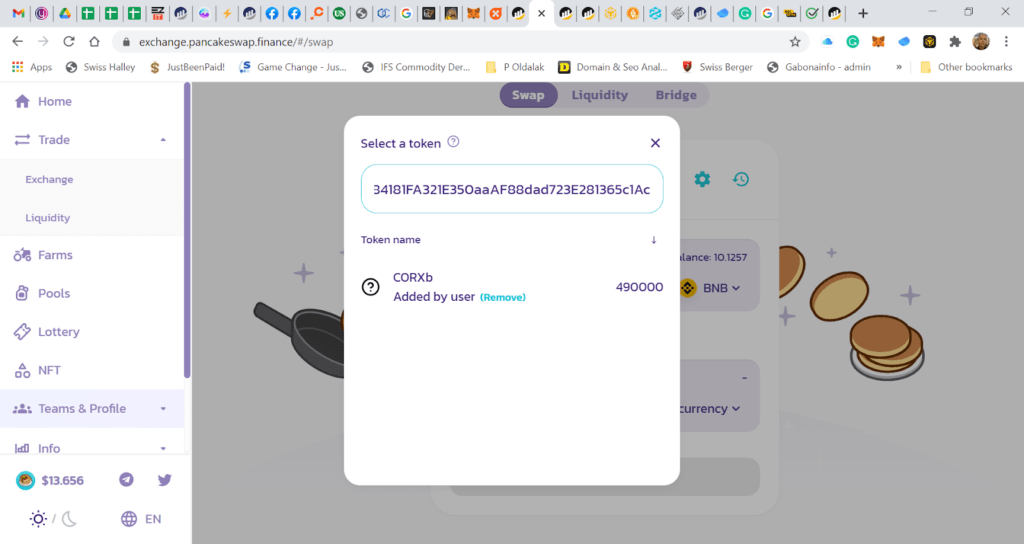 Add the amount you want to swap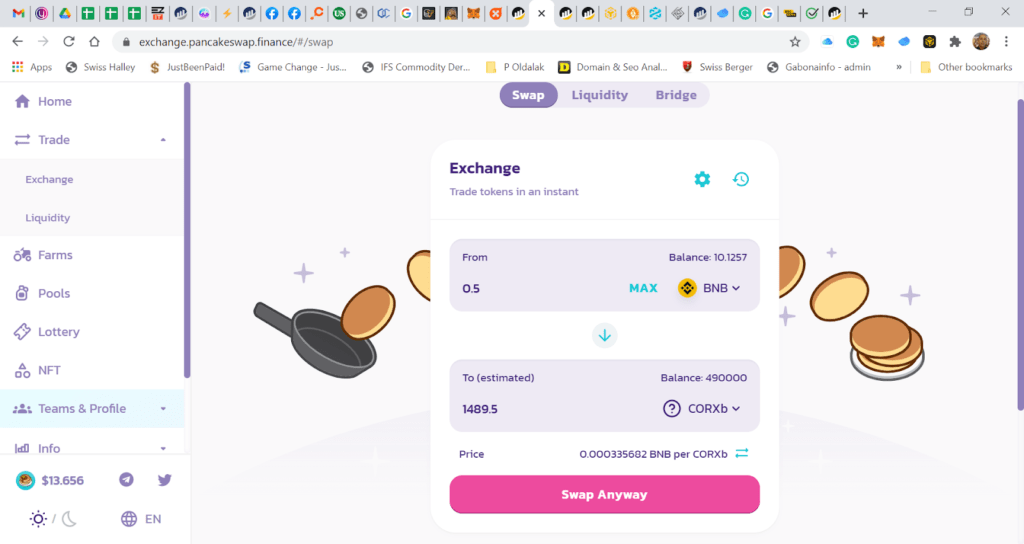 Confirm amounts and click on Swap/Swap Anyway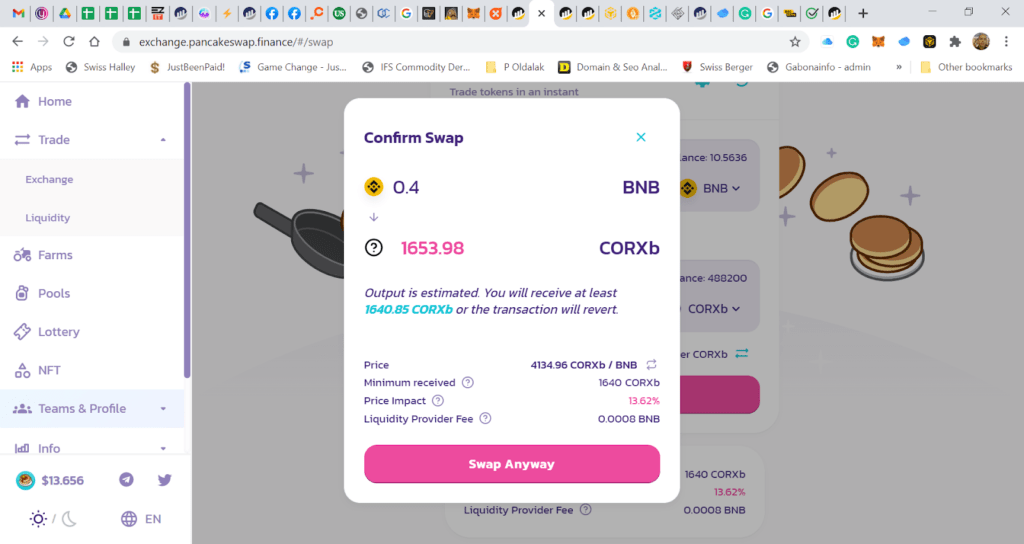 The CorionX team will add initial liquidity and increase it on PancakeSwap as the volume increases and the trading is harmonizing with other exchanges where CORX is traded.
We are working hard to launch Yield Farming both for Uniswap and PancakeSwap LP tokens in the near future, to allow our token holders to provide liquidity and earn extra yield.
In the meantime you are free to add liquidity in the Liquidity section as you see here, to earn 0.17% trading fee.
https://exchange.pancakeswap.finance/#/add/BNB/0x36184181FA321E350aaAF88dad723E281365c1Ac
Copy CORXb token contract in the Select box:
0x36184181FA321E350aaAF88dad723E281365c1Ac
Put the amounts you want to add to the CORXb/BNB liquidity pool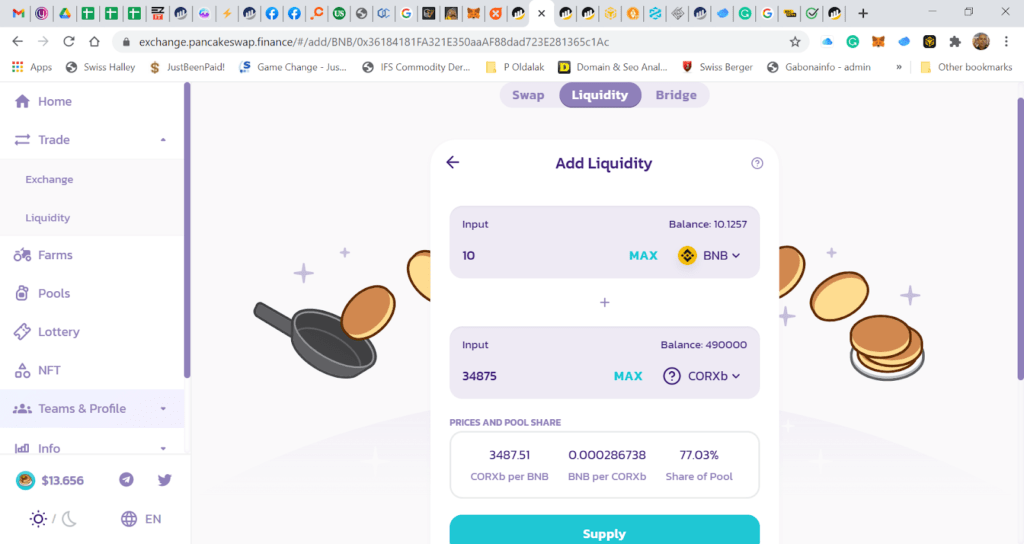 Stay tuned, yield farming coming soon.
Track CorionX on CoinMarketCap — https://coinmarketcap.com/currencies/corionx/
Learn more about CorionX — https://corion.io
Follow CorionX on Facebook — https://www.facebook.com/CorionFoundation
Find CorionX on Twitter — https://twitter.com/CorionPlatform
Join the CorionX community on Telegram — https://t.me/corionx
Read about CorionX on Medium — https://medium.com/@Corion
Follow CorionX on Linkedin — https://www.linkedin.com/company/corionplatform/
Follow CorionX on Instagram — https://www.instagram.com/corionplatform/